The 2016 Volkswagen Beetle Dune Is A Four-Wheeled Beach Party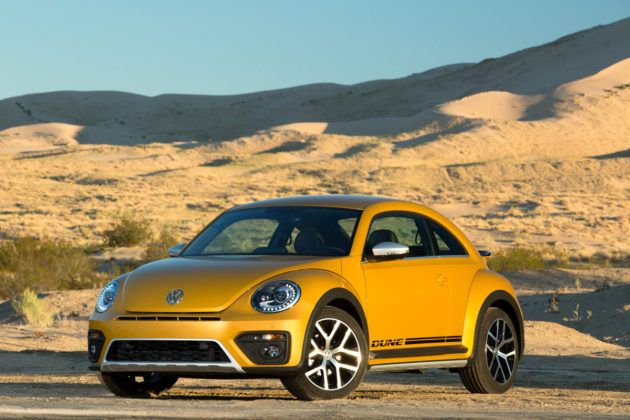 The New Beetle from Volkswagen is part modern fun, part nostalgia, and all kinds of cool. When the modern Bug was introduced about two decades ago, it firmly fell into the "women love this thing" category. It wasn't until 2011 that the VW Beetle took on a more muscular, robust appearance. That great look has been further enhanced with the Dune model, released this year. We got a week in this special edition and spent a week in the powerful R-Line earlier this spring as well. Apples and Oranges there.
The 2016 Volkswagen Beetle Dune is a standard Beetle Turbo model to which several goodies have been added. While both coupe and convertible body styles are available, personally I think the convertible is the better option. Exterior changes for the Dune include new bumpers, side moldings, wheels, and more ground clearance. Inside, there has been an infotainment upgrade, Dune-specific seating, and exterior colors carried into the dashboard and door panels.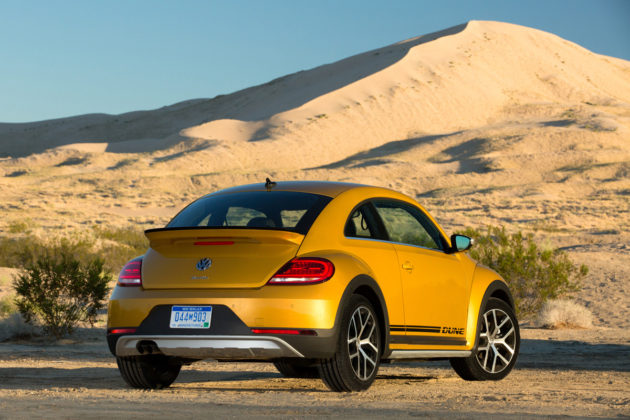 VW says that the Dune was inspired by the Baja Bugs of the 1970s. These were modified VW Bugs, kitted out with body modifications and added drivetrain components to allow beefier tires and higher ground clearance. These "Dune Bugs" got their Baja name from their popularity in Southern California where they became beach runners and Baja-style racers.
The Beetle Dune has bigger, beefier-looking front and rear fascias from which black wheel arch extensions run both front and rear. These make the arches look larger and go with the near half-inch lift (0.4in) given to the Beetle Dune. They also make the car about 0.6 inches wider, giving it a more rugged stance at the curb.
Under those wheel arches are 18-inch Canyon aluminum-alloy wheels fitted with beefy 235/45 all-season tires with a more aggressive tread than that seen on standard Beetle models. Dune graphics are added to the rear panel ahead of the fender. The front diffuser and rear lower fascia have faux skid plates added. Finally, a large spoiler, reminiscent of the Porsche 911, is added above the VW Turbo logo.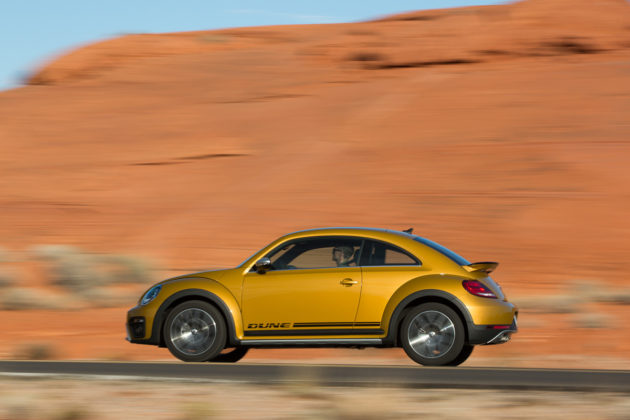 There are three exterior colors available for the 2016 VW Beetle Dune. We had Sandstorm Yellow, but Pure White and Deep Black Pearl are also available. The engine powering the Beetle Dune is the same 1.8-liter turbocharged four-cylinder that runs the rest of the Beetle lineup (with the exception of the R-Line). This little 1.8 outputs 170 horsepower and 184 pound-feet of torque through a six-speed automatic transmission. We produced 0-60 mph times of 7.5 seconds in our convertible model. This is a car that feels quicker than it is, though. Especially with the top down.
Inside, the Dune is equipped with the Beetle's sport seating, which are adorned with Dune-specific orange stitching and a leather-wrapped steering wheel. The MIB II infotainment system is standard equipment and runs on a 6.3-inch touchscreen, which includes the Composition Media system. That screen size might seem small, but the new system uses tablet-like swipe and pinch gestures and detects where your finger is before you touch it, expanding the screen's sensitivity in that area somewhat to make it easier to make your selection. This subtle change makes it far easier to use the system on the go and is a great addition to VW's already-good infotainment.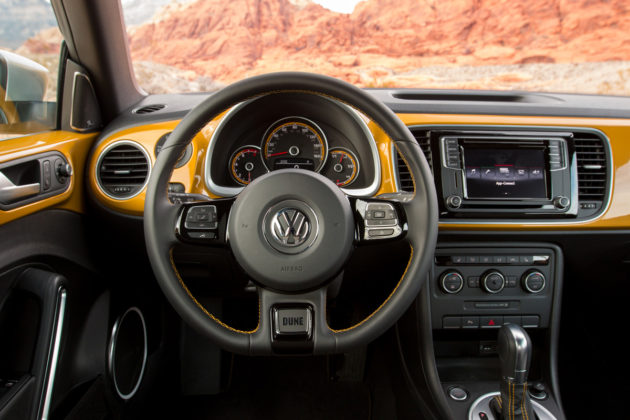 Upgrading to VW Car-Net adds App-Connect and other options for advanced smartphone use with the car. This includes Apple CarPlay, Android Auto, and MirrorLink.
But probably the greatest appeal to the 2016 Volkswagen Beetle Dune is its presence and lovability. This is a fun little car and everyone who sees it knows that. It's a car that elicits waves from passerby. It gets women smiling and doesn't make you feel less of a man for driving it. It's fun nature creates smiles from those inside the car as well as from onlookers. On the road, it's good as an everyday drive and fun on the weekends too. It's hard to describe the way the Beetle just imbues you with good times. That is, of course, the essence of the VW Beetle and the Dune really makes that happen.