Can A Smartphone Replace Your Navigation System?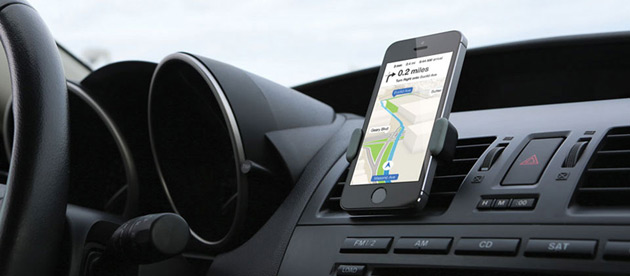 When navigation systems first became available in cars, they were something of a novelty. But over time they have become an indispensible part of motoring. Perhaps this isn't entirely a good thing though, as a recent survey discovered that four out of five young drivers are unable to read a road map! There are also plenty of horror stories of navigation systems taking people on some very strange diversions. Regardless, they're here to stay, and thankfully they're becomingly increasingly sophisticated.
While navigation systems are now offered in a number of car models, they are mainly used as an accessory that's mounted on the dashboard or windscreen. However, most smartphones today also have GPS sensors, and there are many navigation apps that provide all the functionality of a standalone navigation device.. And sometimes even more.
While satellite navigation relies entirely on GPS data, a smartphone can also use 3G and 4G connectivity to access additional data. For instance, a navigation system can provide you with navigation functionality and information that has been stored as points of interest, such as gas stations and restaurants. But this info can become out of date quite quickly, so you can't always rely on it. However, your smartphone can provide a whole new level to the GPS data, including the latest information on road conditions, traffic hold-ups, road works, and so forth. There are even apps that reward you for careful driving that you can add to your phone.
There are a number of alternative approaches to using a smartphone for navigation. By default, most phones come with Google Maps. However, using navigation apps like these mean that you need to be connected to a network all the time, which isn't always possible and can use up your data allowance. And if you use this when driving abroad, you could end up facing some large data charges.
Your alternative? Purchase a navigation app and maps from suppliers such as Tom Tom or Co-Pilot. These apps essentially replicate a standalone navigation system on your phone. Of course, just as you should keep a standalone NAV device regularly updated, you need to make sure that your app maps are updated as well.
Another approach is to use NavFree and OSM. OSM (open street map) is an open content mapping project that aims to provide a world map that can be used for free, and many smartphone navigation apps such as NavFree make use of it. The mapping data (or at least the part of it you need) is simply downloaded to the phone and stored locally. Unlike apps such as Google Maps it doesn't need a network connection to function.
So not only is it possible to replace your navigation system with your smartphone, but your smartphone offers more functionality and many people prefer using one to a standalone GPS. However, a word of caution – Remember that it's illegal to "use" your phone while driving, so make sure that you stay hands-free.