Introducing The 2015 Ford Mustang

The next chapter in the life of the iconic pony car begins today as the all-new 2015 Ford Mustang – loaded with innovative technologies and delivering world-class levels of performance – is being simultaneously revealed around the globe in six cities on four continents.
Like many others, we saw the leaked Autoweek photos a few days ago, but now we've got high-resolution photos showing every detail of the iconic pony car. Despite it's new shape, it's still unmistakably Mustang.. with a modern retro twist.
Compare the new Mustang to the outgoing model, and you'll notice several key design features, including:
A lower, wider stance with a reduction in roof height, and wider rear fenders and track
A sleeker profile enabled by more steeply sloped windshield and rear glass
Three-dimensional, tri-bar taillamps with sequential turn signals
Contemporary execution of the signature shark-bite front fascia and trapezoidal grille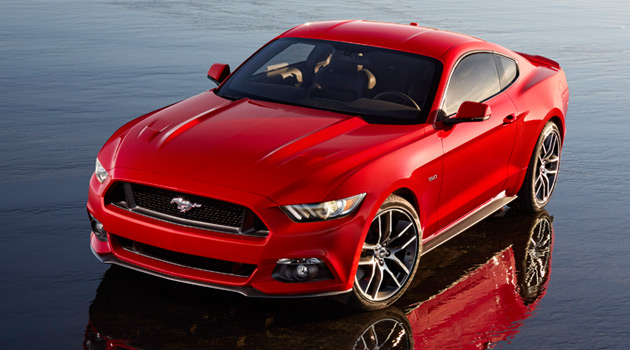 The interior of the vehicle gets a complete overhaul, boasting the highest degree of craftsmanship ever found in a Mustang. Large, clear instrumentation puts vehicle information right in front of the driver in the roomier cabin, while improved ergonomics and tactile switches and knobs provide better control. The added width and a new rear suspension contribute to improved shoulder and hip room for passengers, and a more usefully shaped trunk can accommodate two golf bags.
The V6 and V8 engines are both upgraded for 2015, and are now joined by a third option, an all-new 2.3-liter EcoBoost engine that uses direct injection, variable cam timing and turbocharging to deliver the performance Mustang drivers expect, with output projected at more than 305 horsepower and 300 lb-ft of torque.
Of course, purists will naturally gravitate to the 5.0L V8, now featuring an upgraded valvetrain and cylinder heads that yield more than 420 horsepower and 390 lb-ft of torque. A new intake manifold improves low-speed breathing for better fuel economy, idle stability and emissions.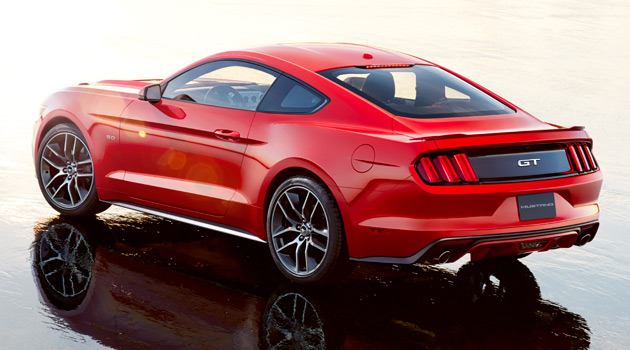 Regardless of which engine you opt for, drivers of the new Mustang will appreciate smoother shifts from the updated manual gearbox, while a reworked automatic transmission features new steering wheel-mounted shift paddles for drivers who want the choice between convenience and control.
The Mustang features all-new front and rear suspension systems. At the front, a new perimeter subframe helps to stiffen the structure while reducing mass, providing a better foundation for more predictable wheel control that benefits handling, steering and ride. The new double-ball-joint front MacPherson strut system also enables the use of larger, more powerful brakes. This is expected to be the best stopping Mustang yet, with three available brake packages.
At the rear is an all-new integral-link independent rear suspension. The geometry, springs, dampers and bushings all have been specifically modified and tuned for this high-performance application. New aluminum rear knuckles help reduce unsprung mass for improved ride and handling.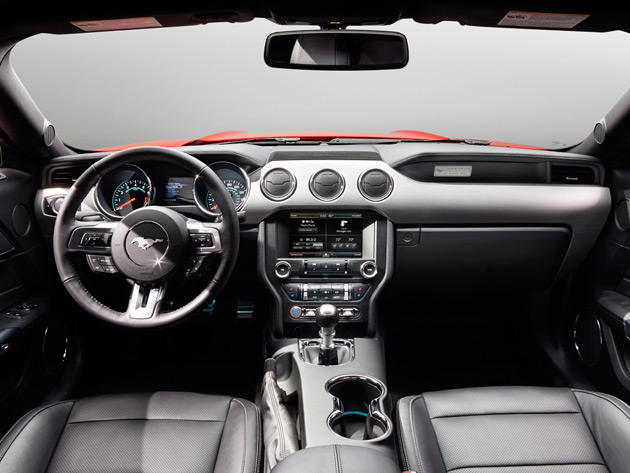 And of course, no Ford would be complete without a slew of innovative technologies, and the Mustang is no exception. Racers will appreciate features like Track Apps, launch control, and the advanced stability control system. Techies can enjoy all that SYNC has to offer, and the addition of some buttons and knobs to access common SYNC features should address the complaints many had in the past.
The 2015 Mustang is slated to be released in late 2014, with pricing to be revealed closer to that time.
What do you think of the all-new 2015 Ford Mustang?