Introducing The Daytona 500 Blogger Challenge
One of the more popular NASCAR tailgating games revolves around friends tossing a few bucks in a pot and then drawing a random driver's name from a hat. At the end of the race, whoever's driver has the best finish wins the money in the pot. Simple enough, right?
The Daytona 500 Blogger Challenge is a variation on that. A bunch of NASCAR's brightest stars have agreed to race their hearts out in Daytona on February 26th to win us and a lucky reader an all-expenses paid trip (courtesy of NASCAR) to attend the Sprint All-Star Race in Charlotte NC on May 19th!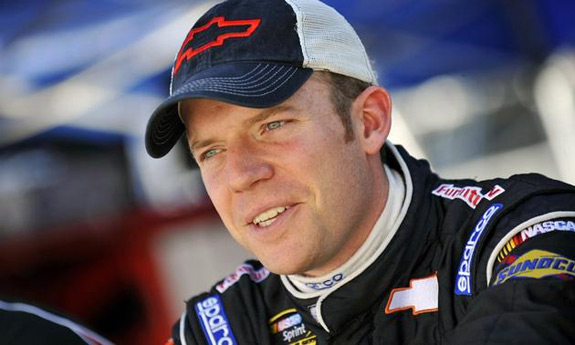 Here's how it works:
Each blogger gets randomly assigned a NASCAR driver to race for us. In our case, we drew Regan Smith, Car #78.
Just like in the tailgating game, the rules are simple – The blogger whose driver has the best finish wins the All-Star Race trip in May.
We're also getting some sweet autographed pieces of racing memorabilia to giveaway.
After Regan wins, we'll hold a contest to decide who's coming to Charlotte with us! 😀
So how can you help? Tune in to the Daytona 500 on February 26th at 1pm EST on FOX. Cheer on Regan, talk trash to others on Twitter (using the #Daytona500 hashtag), and let's keep our fingers crossed for a victory for Car #78!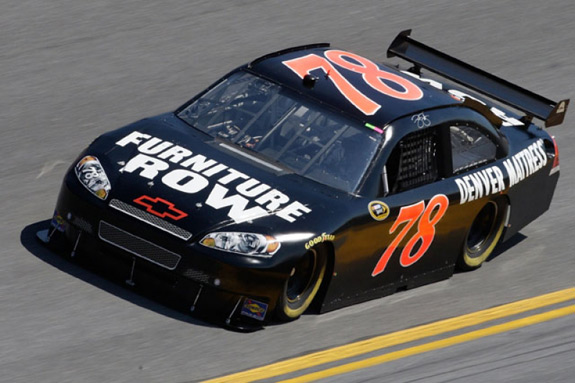 We had a chance to interview Regan Smith earlier today, and he's really excited about their chances for the Daytona 500, along with the rest of the 2012 season.
Since we're rather new to the world of NASCAR (100 million people tuned in to the sport last year, but we've never been to a race), we wanted to learn more about what makes NASCAR the second biggest spectator sport in America.
It's easy to say that NASCAR drivers just make a series of left turns, and that there's not much skill to it. But nothing could be further from the truth! NASCAR drivers are athletes just like football players are, even if they look nothing alike physically. But in NASCAR, there's a mental component that you don't see with other sports.
How so?
Can you imagine playing ANY sport for 4+ hours without taking a single break? Drivers are expected to concentrate for hours on end without ANY breaks, often enduring temperatures of 130+ inside their cars. Even when they're pitting, they've got just seconds to talk with their crew and explain what the car is doing. Pretty intense indeed!
Of course, there's a physical component to racing as well.. After racing a go-kart for 20 minutes, my arms were SORE! (Yeah, I'm out of shape) So I can only imagine what these drivers forearms must feel like after a race..
After talking to Regan, I have a renewed interest in the sport, and I'll definitely be tuning in to the Daytona 500 to cheer him on!
Be sure to leave your words of encouragement for Regan in the comments below!