Lexus Just Unveiled Their All-New Lexus LC 500, And It's A Real Stunner!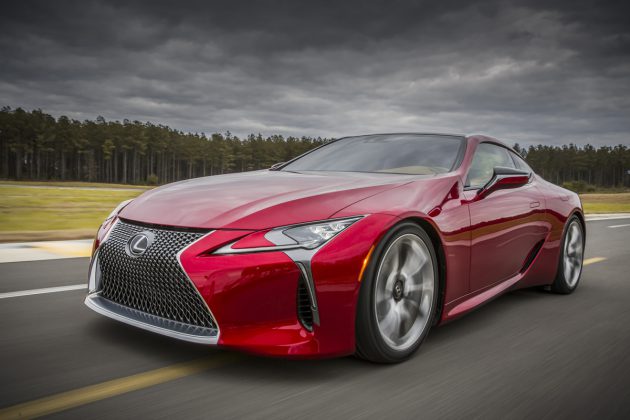 Back in 2012, Lexus unveiled the LF-LC Concept at the Detroit Auto Show, and it was a real head turner. But with it's arresting styling and dramatic proportions, few people believed that this car could ever evolve into a production 2+2 coupe.
Today, four years after the debut of the breakthrough LF-LC concept that inspired it, Lexus has revealed the all-new LC 500 luxury coupe. This provocative, athletic flagship coupe is sure to have brands like Mercedes and BMW shaking in their boots, as they can't hold a candle against the Lexus's bold-yet-restrained styling.
The Lexus LC 500 shares many of the key design elements, proportions and visual dynamism of the LF-LC Concept car that inspired it. The LC 500's visual appeal is defined by an athletic aerodynamic shape. The car features sensual curves, emotional forms, an available flowing carbon-fiber roof (glass roof standard), helping create a low, wide imposing stance that comes together for a highly functional, passionate package.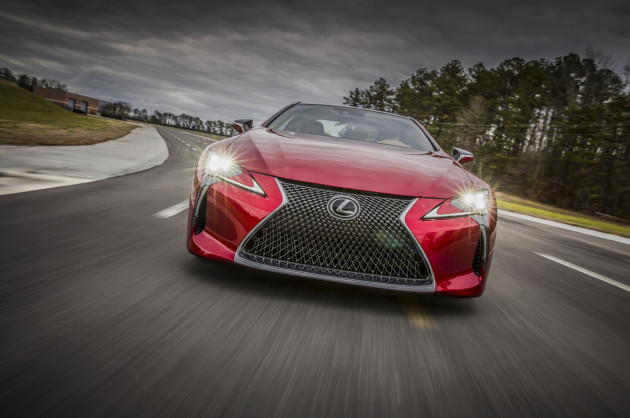 The LC 500's front fascia features a powerful interpretation of Lexus' distinctive grille, bordered by chrome on three sides and a radical new 3D mesh design that varies its visual tension. The "L"-shaped daytime running lights rest below a new Triple LED headlamp unit, specially designed to include one of the industry's thinnest projectors enabling a low hood with a short front overhang.
The LC 500's athletic profile is characterized by its fast, sloped roofline, its wind-cutting silhouette, a long 113 inch wheelbase with compact front 36.2 inch and rear 38.2 inch overhangs and low hood height. The sexy curves and flowing lines maintain a consistent tension in sheetmetal through to the rear end that features slimly designed, multi-layered tail lamps with a unique lighting effect that helps convey a sequential L motif.
Powering the LC 500 is a familiar power plant, the proven, high-revving 5.0-liter V8 that's found in the RC F and GS F. The naturally aspirated V8 was selected for its smooth, linear throttle response and emotional engine sound. The all-aluminum, 32-valve V8 puts out 467 HP and 389 lb-ft of torque. Helping power transfer to the rear wheels is a newly developed 10-speed automatic transmission, with shift times rivaling those of a dual-clutch transmission.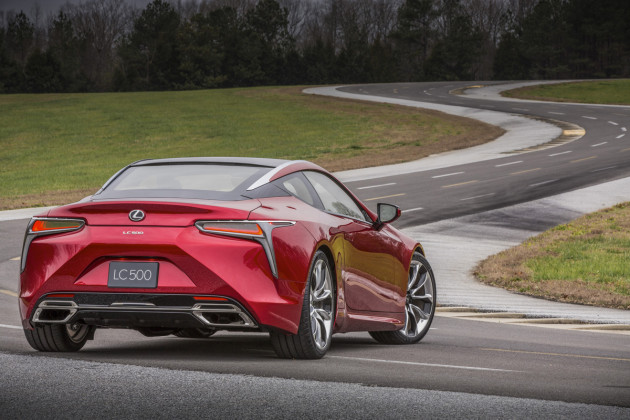 Lexus says that the LC 500 will start at just under $100,000. Given the car's performance (0-60 in under 4.5 seconds) , agility (unlike any four-person coupe on the road), and drop-dead good looks (it looks like a concept car), they shouldn't have any problem selling every single one they make.
The Lexus LC 500 will launch as a 2017 model when it hits dealerships next year.