Test Drive: Ferrari Racing Legends – 07/03/12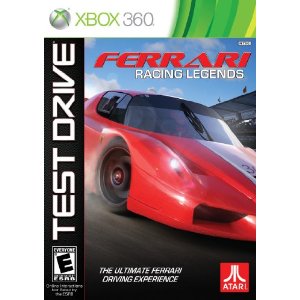 I've been waiting for Test Drive: Ferrari Racing Legends since May, and it's finally here! I was obsessed with the original Test Drive when it was released back in 1987, and I've been a fan of the series ever since.
Test Drive: Ferrari Racing Legends shifts the racing genre into high gear, going beyond the tracks to fully immerse you in the rich history of the landmark brand. With 52 finely tuned, lovingly detailed Ferrari models, from legendary classics to the cutting-edge designs of today, as well as an extensive range of world-famous circuits, Ferrari Racing Legends delivers the ultimate driving experience. The Ferrari story unfolds before you as you clinch victories and unlock tracks and cars. Hammer down and find out just how fast your wheels can go when you race against AI opponents or a group of your friends in white-knuckle competitions. The wheel's in your hands, the switchgear's at your fingertips and the pedal's at your feet — what feats can you conquer in the driver's seat of a Ferrari?
Test Drive: Ferrari Racing Legends is available for the Xbox 360 and PlayStation 3.