The 2012 Guys Gab Holiday Gift Guide!
Tablets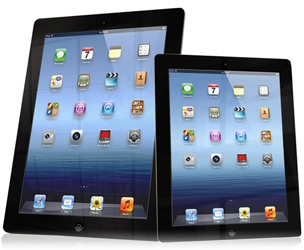 Tablets let you check your e-mail, surf the web, update your Facebook page, and play games like Angry Birds. For most people, that's all they do online anyway. Now you've got a light, compact alternative to a computer or laptop that's 100% portable.
There's no question that the iPad 4 is the market leader! It's got the best user interface, the largest selection of apps, and the most accessories. And if you're looking for something a bit smaller, check out the iPad mini. It's every bit an iPad, only smaller!
If that's too rich for your blood, consider the recently-released Kindle Fire HD. Starting at just $199, the Kindle features stunning HD display, Dolby Audio, and the fastest Wi-Fi. If you're a big reader, you're going to love the Kindle Owners Lending Library!
Instead of buying a docking station that's tied to a single device, consider getting a Bluetooth speaker like the EDGE.sound. It's got sophisticated looks, a rechargeable battery good for over 10 hours of playback, and it puts out remarkable high-quality sound.
Another great option is the Braven 650 wireless Bluetooth speaker. The Braven 650 has an aluminum shell much like a Macbook and has some awesome features. Not only does it look great, but with an audio out, it can be daisy chained to multiple speakers to get as much sound as you need. It also features a USB port to charge you mobile devices if they're running low.