Why Should You Buy A Scion tC?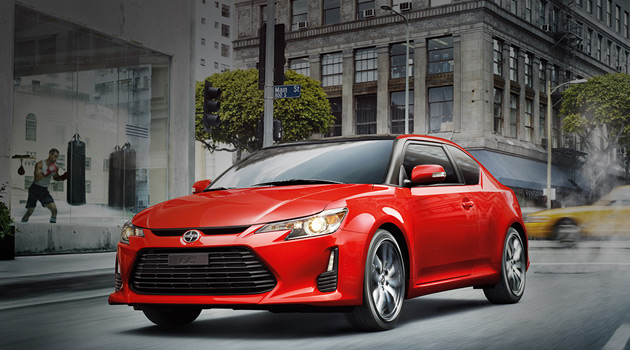 Some may be offended by the idea that Toyota tried to brand their generation by offering them only one style of car. After all, the Scion line of cars was specifically designed based on research done regarding the interests and consumer trends of Generation Y. One would think that their research would have also revealed how much this current generation detests being grouped into any sort of demographic whatsoever.
So, after such a blatant act of overly-assumptive thinking, why would one want to lower themselves to driving a Scion tC? What could such a car offer to drivers that overcomes its manufacturer's boldness in presuming to know what it is they want? Well, for starters, Toyota has earned a solid reputation for providing generations of customers not looking to be inundated with luxury with affordable, dependable vehicles that make driving simple and fun again. Former standard models like the Celica were among some of the best sellers in the history of the brand. It was that history of simplicity in driving, combined the option to add in the current "bells and whistles," that the company's generational research pointed to as to what younger drivers really want.
What the tC Offers
All of this information led to development of the Scion line, with the tC being one of the more popular models among it. And as customers got over the shock of Toyota's bold new marketing strategy, legitimate reasons began to emerge as to why one would want to own and drive a tC.
Performance: Scion's were often initially relegated to the hipster, tree-hugging crowd of drivers, and often thought to offer the same level of performance as the hybrid cars so popular with this group: great gas mileage, but barely goes faster than a motorized scooter. Yet those who actually climb behind the wheel of a tC come away impressed with its power and performance. The tC borrows its engine design from the Camry, meaning that it can call on 180-horsepower when it really needs to run.
Roomy interior: Don't be fooled by the tC's cramped look; this car has plenty of leg room, especially when compared to other Scion models. The back seats won't require adults to crawl into a fetal position to squeeze into. They even recline, a feature unheard of on most standard model coupes.
Sound in stereo: Among the most common interest in younger drivers is a mack-daddy car stereo, which is why it comes standard in the Scion tC. It comes with an 8-speaker Pioneer sound system with USB port, plus the option of adding a subwoofer as well as Bluetooth capability.
Price: Another common denominator amongst young drivers is an overall lack funds. As such, talking a dealer down is their only option if they want all of the features they desire in a car. Scion's Pure Price policy means that the advertised price is the price paid, with no negotiation involved. Plus, those wanting to add features can add them individually, not having to pay for a more expensive package. All told, one can usually walk out of dealership with the keys to his or her new tC for around $20,000.
It's Fun to Drive: The tC has a unique personality all its own, offering spirited acceleration and handling with the safety of front-wheel-drive. For those looking to break away from the sheer boredom of a sedan, the tC is terrific alternative.   
Presented By Scion
Don't look at the Scion tC or any other of the Scion line of vehicles as an insult towards today's generation. Rather, see Scion cars for what they truly are: smart, affordable vehicles that provide all of the performance quality and standard features as any other vehicle line. Isn't that ultimately all that today's customers want, anyway? Maybe Toyota knows and understands them better than many think.