Highlights From Further With Ford Trend Conference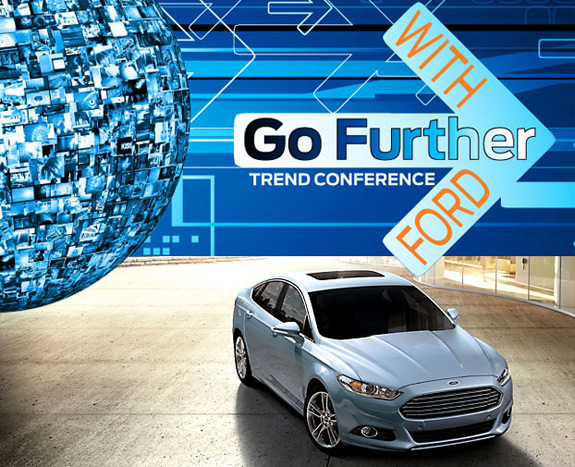 Last week, we headed out to Ford HQ in Dearborn MI for the Further with Ford Trend Conference 2012. I really enjoyed last year's Forward With Ford event, so I couldn't wait to see what they had in store for us this time around.
Day One kicked off with a dinner reception at Ford Field, where we heard from Ford Executive Chairman and "Environmental Industrialist" Bill Ford. You can't help but get caught up in Bill's enthusiasm for the environment, he was just so excited talking about his Electric Focus! After dinner, we headed out onto the field, where we kicked some field goals and pretended that we were NFL stars. It was a pretty cool experience!
Sheryl Connelly, manager of Ford Global Trends and Futuring, kicked things off on Day Two, after which we broke into groups and headed to our respective trend sessions.
Tech: Streamline and Simplify
While it's no secret that Ford has put a huge emphasis on technology in their cars, it's pretty remarkable what they've been able to accomplish. You've probably heard about SYNC and MyFord Touch, remarkable systems that allow you to control numerous functions using voice commands. Now they've added SYNC AppLink, an industry-first technology that can control smartphone apps by simply using your voice. You can control apps like Pandora, Stitcher, iHeart Radio, and others using nothing but voice commands. Very impressive.
Another neat SYNC feature is the ability to send and receive text messages hands-free. Texting while driving is a problem that's not going away, and this is one of the best ways we've seen a car company handle it. We ran through a live demonstration, and it was effortless and worked like a charm. I think it's going to be a huge selling point for concerned parents worried about their child's safety.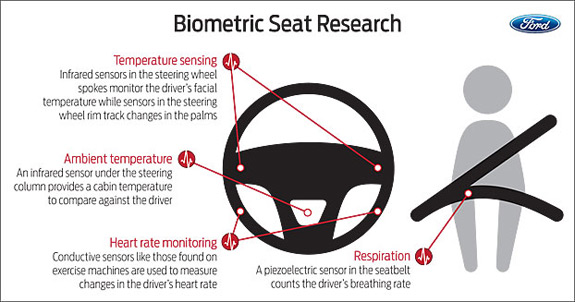 Lastly, we got a glimpse at some future technology based on driver's biometrics. Ford has a research program where the steering wheel takes the driver's blood pressure, temperature, perspiration, and respiration. It monitors all of this, along with the car's data (speed, yaw rate, traffic density, etc), and then make predictions on driver workload. If the car "knows" that you're merging onto a highway, it may delay or disable incoming texts or calls so that you can focus on the road at that moment. Cutting edge stuff!
Design: Age of Accessible Design
Today's consumers are savvier than ever. They recognize great design and they demand it in the products they purchase. Impeccable craftsmanship and smart design are essential, but products must resonate with individuals on an emotional level at all. Ford's goal is to use design to seduce customers with cars they truly desire. It's not exactly a new concept, it's why we lust after cars like the Mustang. But taking that same approach for a "family car" like the 2013 Ford Fusion is something completely new.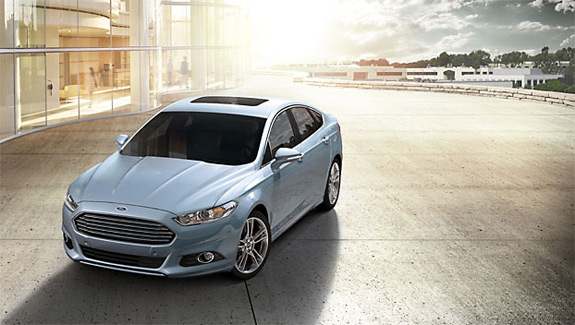 The new Fusion is stunning inside and out, and it's a car that you need to see in person to truly appreciate. But it was also designed with a conscience. A single Fusion may contain up to 38.9 clear plastic 16oz recycled bottles, 31,250 soybeans, and the denim equivalent of two pairs of blue jeans. Chic and environmentally friendly, who would have guessed?
Urban: Urbanization
Stuck in traffic? Ask your car to find you a new route. That's just one of the new technologies designed to meet the challenges of urbanization. With up to 4 billion cars expected to be on the roads around the globe by 2050, Ford understands the need to rethink both technologies and initiatives to meet the world's transportation needs in increasingly crowded spaces.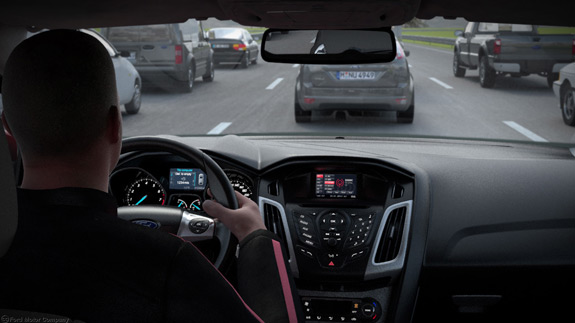 Ford engineers are developing new technology to help combat stop and go traffic. This innovation uses radar and camera technology to improve vehicle flow by maintaining lane position. Ford's Traffic Jam Assist has automatic speed regulation and adaptive cruise control, two technologies already available on Ford vehicles. Plus, in the next five years Ford plans to evolve its active park assist technology, which helps drivers parallel park hands-free. The new feature will help drivers park in perpendicular spots as well. Ultrasonic sensors will identify spots for width rather than length, and steer the vehicle into the spot with the driver operating only the gas and brake pedals.
Eco: Eco-Psychology
Do you feel better about a purchase if it's environmentally friendly? The trend right now is to create greener products that last longer, are recyclable and use less resources and harmful materials. By making changes now in how vehicles function, what they are made of and how they are made, Ford is creating positive change with an eye toward improving the future.
Sustainable materials can be found throughout many Ford vehicles. Ford's use of soybean-based foam in seat cushions, backs and head restraints saves about 5 million pounds of petroleum annually! Vehicles like Fusion also use plastic made from recycled car battery casings to make fender splash shields and under underbody components. Think of the ecological benefits that we reap as a result of Ford's eco-friendly stance.

Driving technologies available inside Ford vehicles are coaching consumers to more fuel-efficient miles every time they get behind the wheel. These programs, including EcoMode and SmartGauge with EcoGuide, are designed to be eco-friendly and fun to use, all while helping drivers save money. They enable consumers to modify their driving habits through coaching methods and rewards that encourage eco-friendly driving behaviors. By making simple adjustments in everyday driving habits – from rolling up windows when traveling more than 50 mph to staying on top of vehicle maintenance – consumers can increase their fuel efficiency while decreasing their impact on the environment and the cost of vehicle ownership.
I came away from Go Further With Ford excited about the future of automotive. Just because a car is eco-friendly doesn't mean that it can't still look good, be fun to drive, and be loaded with technology to make my commute that much more enjoyable.
On a final note, we got to drive a number of cars from Ford's fleet on Day 3, and my favorite car of the bunch was the All-Electric Focus. Seriously! The cool thing about all electric cars is that their motors provide 100% torque instantly, from any speed.
Now I understand why Bill Ford was so excited about his Focus. 🙂