Introducing The MINI John Cooper Works Countryman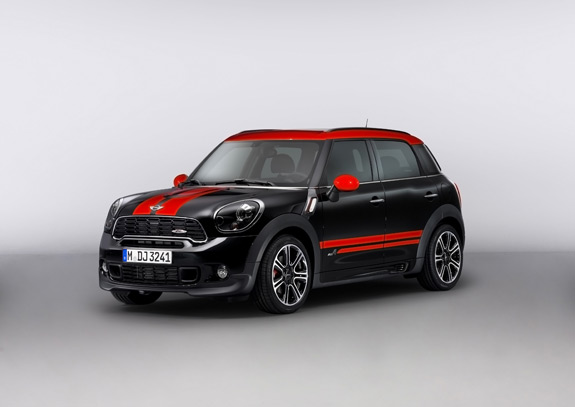 The MINI family is constantly expanding, and new additions have also been made to the range of John Cooper Works models available to customers. For the first time, MINI racing-inspired thrills can be experienced in combination with all-wheel drive. The global introduction of the MINI John Cooper Works will get under way in autumn 2012.
The MINI John Cooper Works Countryman will be fitted as standard with the all-wheel-drive system known as ALL4, and powered by a newly developed four-cylinder turbocharged engine producing 211 hp and 207 lb-ft of torque. This new combination assures the driver of extreme driving fun on any terrain. The John Cooper Works Countryman is also the first John Cooper Works model available for order with a six-speed automatic gearbox as an alternative to the standard six-speed manual.
The Countryman, MINI's first five-seater, already shares the racing genes which define the character of every MINI, and now the John Cooper Works polishes these inherent talents to really shine. The new engine brings another hike in output, transferred onto the road with impressive style by the MINI's all-wheel-drive system. The John Cooper Works suspension ensures every change in direction is imbued with addictive agility. The MINI John Cooper Works sprints from 0 to 62 mph in 7.1 seconds.
The MINI John Cooper Works Countryman is equipped as standard with an aerodynamic kit, 18-inch light-alloy wheels, a sports exhaust system with chrome tailpipes and door sills bearing the John Cooper Works logo.
My Thoughts:
Honestly, I'm not sure how I feel about this.. I love the utilty of all-wheel drive (that's why I drive a Subary WRX), and I like that manufacturers are getting out of their comfort zone and trying new things. But I'm not a huge fan of the Countryman to begin with, it just looks bloated to me. Offer the ALL4 tranmission in the MINI Cooper JCW, and I'd be all over it!
Of course, I'll reserve final judgement until I get some seat time in the JCW Countryman.