Moebuilt Mk 2 Upgrade: G.Skill Trident X
When I first started construction on the Moebuilt Mk 2 I had quite a few items donated to help me along the way, but I also had to spend my own cash on certain parts as well. One of those items was the memory and I purchased what I felt to be the best RAM on the market, the G.Skill Trident X. I was interested in G.Skill thanks to their incredible history of making nearly indestructible products, the solid build quality, and their nearly unheard of speed. G.Skill Trident X was used to set the world record for RAM speed back in September of last year. They were able reach a speed of 4400 Mhz. That is almost three times the speed of what most big name gaming computers use.
The record was so impressive it stood for nearly 6 months; essentially an eternity in the computer and tech world.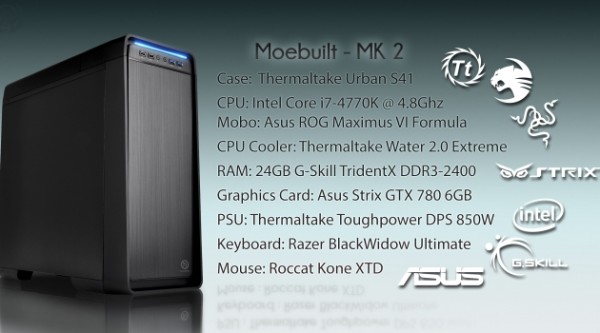 When I announced the construction of the Moebuilt Mk 2, G.Skill heard that I had chosen the Trident X as my go-to memory. They decided that to say thanks for choosing them, they wanted to help out with the project and donated even more memory. I started with the generally accepted minimum of 8GB for the original build, and G.Skill has sent me a 16GB kit. That puts me up to a total of 24GB, and it has helped make my computer run even faster than ever before. During heavy workloads in Photoshop I could only have a dozen or so images open at once, but with the extra RAM capacity, I have had as many as 75 photos loaded up in Photoshop at one time without any issue. The RAM I am using is also much faster than the usual 1600 Mhz that most companies sell and use. The G.Skill kit is a 2400 Mhz kit making games run smoother, programs load faster and decreasing fetch times when working with large loads.
If you are looking at a PC upgrade, or looking to build a new computer yourself, look no farther for RAM. I used to swear by Corsair, but after multiple dead sticks and the bad quality of their heat-sinks, I had enough. G.Skill's products are so good and so fast I will likely use them for the rest of the foreseeable future.