Movie Review: Transcendence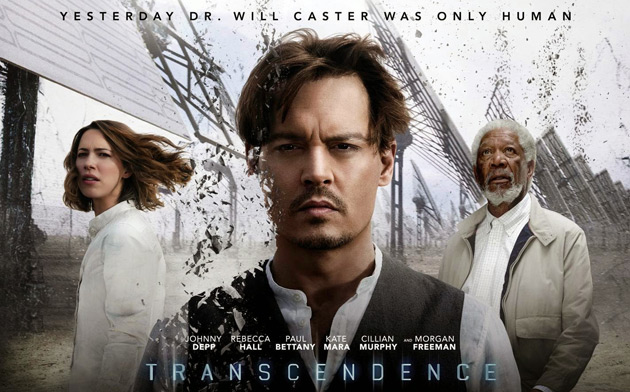 Last night, I attended an advanced screening of Transcendence starring Johnny Depp. The commercials for this movie looked pretty cool, so I was psyched to check it out. And the fact that it was being played in IMAX was an added bonus.
For those of you unfamiliar with Transcendence, here's a brief synopsis of the movie:
Dr. Will Caster (Johnny Depp) is the foremost researcher in the field of Artificial Intelligence, and he's working to create a sentient machine that combines the collective intelligence of everything ever known with the full range of human emotions. His highly controversial experiments have made him famous, but they have also made him the prime target of anti-technology extremists who will do whatever it takes to stop him. However, in their attempt to destroy Will, they inadvertently become the catalyst for him to succeed—to be a participant in his own transcendence. For his wife Evelyn (Rebecca Hall) and best friend Max Waters (Paul Bettany), both fellow researchers, the question is not if they can…but if they should. Their worst fears are realized as Will's thirst for knowledge evolves into a seemingly omnipresent quest for power, to what end is unknown. The only thing that is becoming terrifyingly clear is there may be no way to stop him.
And here's one of the trailers for the movie:

While it looked and sounded like a cool premise to me, the movie didn't exactly blow me away. That's not to say that I didn't enjoy the movie, but on a five-star scale, I'd probably give it 3.5 stars.
So where did it go wrong? There weren't any likeable characters, making it hard to root for someone in the movie. At times, the tech got a little too complicated (and I'm a tech guy myself), leaving moviegoers more than a little confused about what was going on. And the final scene of the movie had everyone scratching their heads, because it wasn't clear what we were supposed to take away from it. (I have my own theories, but it's ambiguous at best)
Overall, it was an unique movie that kept me entertained for 2 hours. If you're into sci-fi and doomsday type movies, be sure you check it out when it hits theaters this Friday, April 18th.