Review: 2014 Scion tC (6-Speed Manual)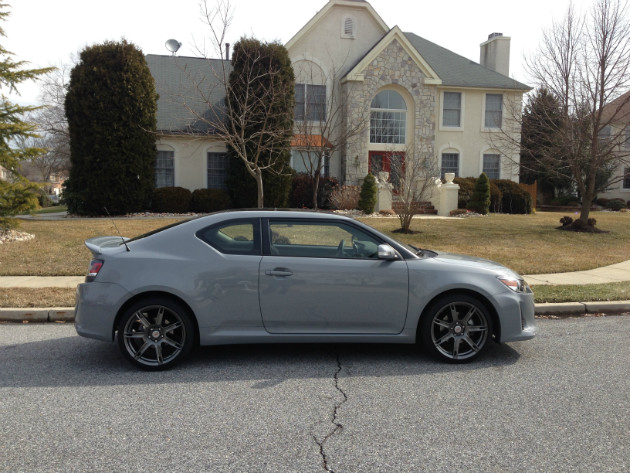 For the past week, I've been driving around in the new 2014 Scion tC. Now if you're a regular reader here, you might have read Aaron's 2014 Scion tC review a few weeks ago. Which beckons the question, why are we reviewing this car again? Because his car was a base model tC with an automatic transmission, and I wanted to see how the car would perform with a proper 6-speed manual and some TRD goodies!
Our tC came to us loaded with pricey options, including the TRD Performance Exhaust ($699), TRD 19″ Alloy Wheels & Tires ($2199), High Profile Rear Lip Spoiler ($444), and BeSpoke Premium Audio System ($1198). Add in a few more miscellaneous options (like floor mats), and the price of the car ballooned from it's base of $19,210 to a whopping $24,837.
At $20K, the tC seems like a great deal.. But at nearly $25K, the car faces off against stiff competition like the Subaru WRX, Ford Focus ST, Mazdaspeed3, and others. So how did it do?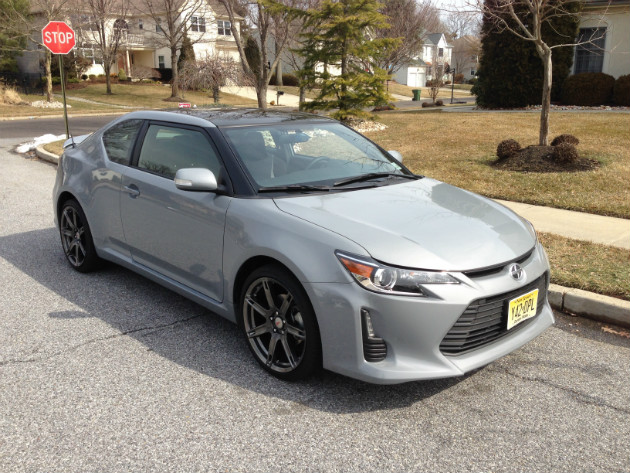 From a styling perspective, I think the Scion designers pretty much nailed it. The outgoing tC's styling was too soft and dated, appealing more to high school girls than college guys. With the redesigned body, the car has a sportier look that's sure to appeal to millennial males. The rear lip spoiler really completes the overall look of the car, but it comes with a price – reduced rearview visibility.
When it comes to performance, the tC got high marks from us all around. The car sports a 2.5L four-cylinder that puts out 179 horsepower to the front wheels, and given how light it is, it's more than adequate. Could it use some more torque? Sure, but then you might have to contend with the torque steer issues that plague the MS3. As it stands, I think they found the perfect balance, offering a fun ride that still delivers respectable mileage (23/31).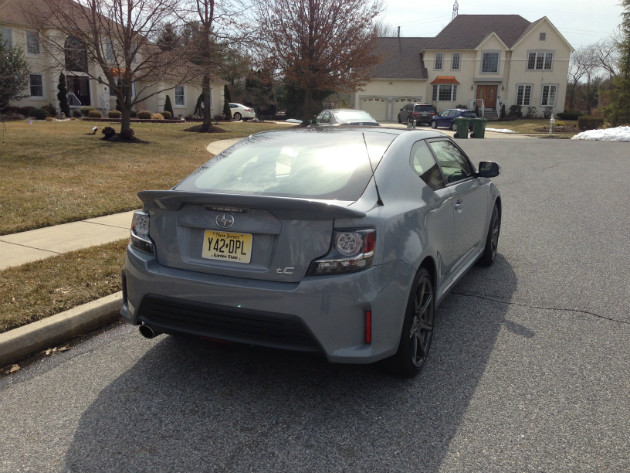 As for the tC's handling, it blew me away! The engineers really dialed the car in perfectly, and no doubt the 19″ wheels and tire package helped in this respect. I took the tC through some of my favorite twisty roads, and it handled them with ease, staying perfectly flat throughout, glued to the road. I can only imagine how much fun the tC would be on a track or autocross course.
If I had one complaint about the tC, it's that the interior lacks some features found on other cars in this price range. The car has technology that people in this demographic are looking for (a Pioneer 300W stereo with touchscreen, Bluetooth, Navigation, etc), but I was surprised that something as basic as push-button start wasn't available. And that even with the $1200 premium audio package, satellite radio wasn't included.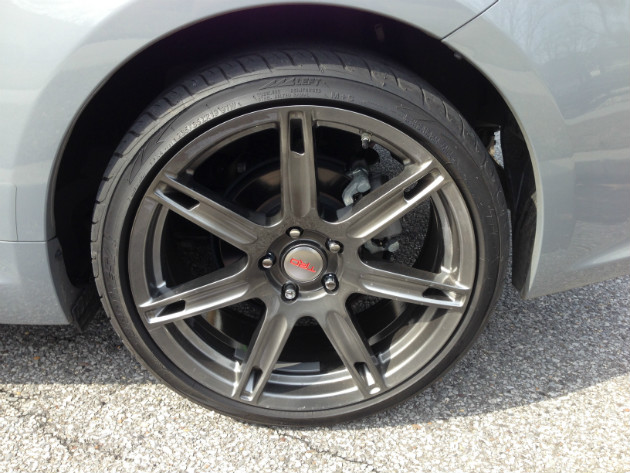 Overall, I think Scion really got it right with the 2014 Scion tC. You can tell that the car was designed with a particular buyer in mind, and in that respect they're spot on. Would I skip some of the pricey options and go with aftermarket equipment instead? While I would, other buyers might want the peace of mind and warranty that comes with factory options.
Regardless, if I were in my early to mid 20's and looking for a fun little sports car, I'd definitely put the tC on my short list.