The 2014 Scion tC Is A Small, Inexpensive Speedster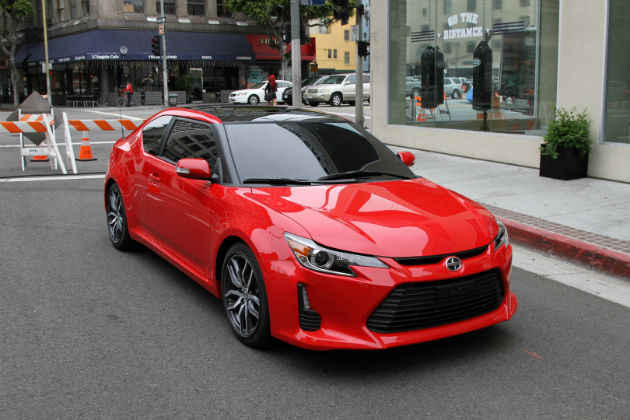 Everyone wants a red sports coupe. Few are interested in the hefty payment that usually goes with it. Enter Toyota's 20-something brand, Scion, with the awesome little 2014 Scion tC. This car has everything you want in a little coupe for about twenty grand.
The 2014 tC is a small, inexpensive speedster with a great look and feel. It's a well-designed car with a flowing appeal, focusing on a simple appearance that emphasizes its style. The arrowhead rear quarter glass, five-point star wheels, low, flat roof line, and deep front wheel placement followed by near-corner rear wheel settings give it a speedy exuberance.
The Scion tC is a two-door lift back coupe in a 2+2 configuration. The back seat won't win awards for comfort or space, but it's a coupe, so no one who ends up back there should expect anything different. The lift back design has some great advantages, like the "pass through" spaciousness it creates with the fully open cabin from front to rear. It also looks cool.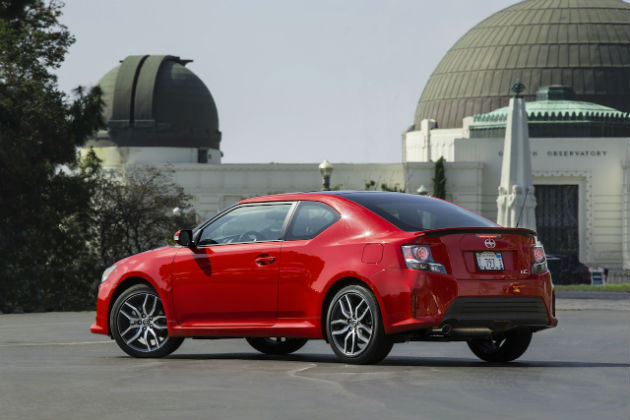 Inside, of course, the Scion tC remains simplified, but with enough connectivity and stereo sound to keep you interested. At this price point, no one can expect great sound dampening and the tC is loud on the road, but the eight-speaker Pioneer premium stereo makes up for that (and then some) while the Bluetooth and other connectivity it offers take this a step further.
Seating is nicely done, with the driver and passenger having plenty of room, even if the driver is my size at six-three and over two hundred pounds. Head, shoulder, and leg room are all good for a car this size. The small, but adequate rear seat bench is a split-fold allowing for a flat stowage space running from there to the back hatch. Scion has built its name on value and the interior of this car showcases that.
Under the hood, the over-powered little 2014 tC sports a 2.5-liter four-cylinder which turns through a six-speed sequential automatic transmission in a front-wheel drive configuration. This means 179 horsepower for a car that would be considered adequate at around 100. Needless to say, that makes it fun. Lots of fun. Add in that wide-open exhaust sound bereft of all but the legally-required muffling and you have some good times ready to roll.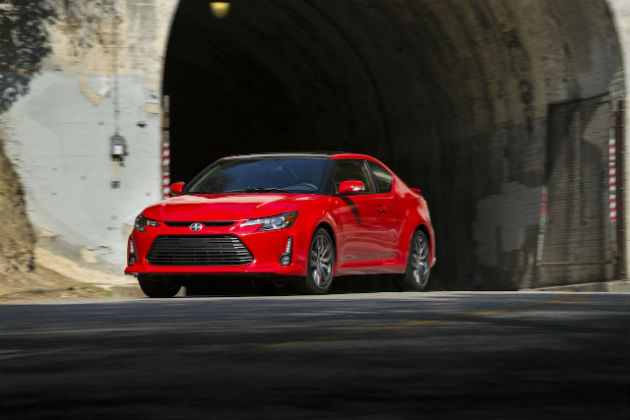 Whatever your age, the 2014 Scion tC makes two demands of you once you're behind the wheel: tunes must be cranked and pedals must be mashed. This is a little sports car that really wants you to drive it like one. The EPA ratings for the car are 26 mpg overall (23 city, 31 highway), but you probably won't get that much thanks to your inability to drive it like grandma. If you do try to be prudent (good luck with that), you'll easily see the combined rating for your efforts.
Compared to other cars like it, the tC stands up well. The Hyundai Veloster is its closest competitor in terms of style and price and the main difference between the two will be nameplate and look. The Veloster has a more aggressive appearance, but the tC is more refined and has a slightly better interior experience. The two-door Kia Forte and Honda Civic are more expensive than the tC, but have more interior accoutrement to go with their more sedate exterior looks by comparison.
One thing to note about cars of this type is that they are not generally good in foul weather. In our week with the 2014 Scion tC, we had a couple of days of harsh winter weather and the car requires that you drive carefully to get around in it. The pedal-pushing it normally wants is a bad idea in that weather and the light weight and high power output it has make this worse. Nearly every car in this segment has the same issue, so this is no knock against the tC.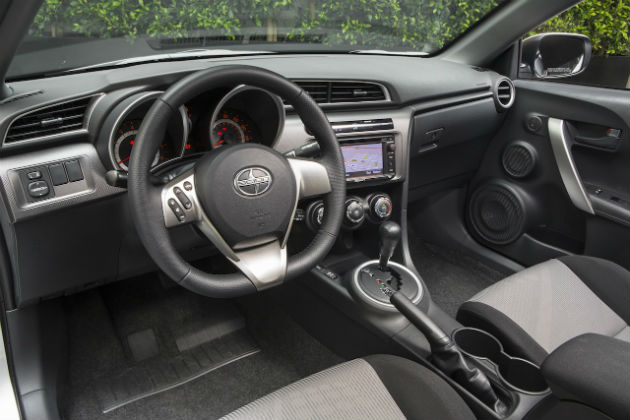 Putting it all together, we can say that the 2014 tC is a great little car. For someone looking to get into a sports car at under $200 a month, this is a great option. It has everything you could ask for at that price point, drives well, and just has "fun" written all over it. A truly enjoyable little coupe.