2014 Infiniti Q50 Sedan Makes World Debut In Detroit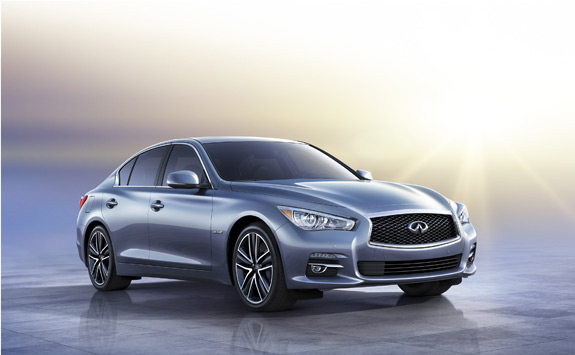 Infiniti today unveiled the all-new 2014 Infiniti Q50 luxury sports sedan at the 2013 Detroit Auto Show. The dramatically styled Q50 is set to hit showroom floors this summer.
The all-new Infiniti Q50 takes many of its seductive styling cues from the Infiniti Essence concept, with a tight, athletic appearance that blends low, wide proportions with excellent interior roominess.
Inside, the Q50 interior offers a driver-centric cockpit with an array of premium comfort and convenience features, including the new Infiniti InTouch communications system with large dual touch-screens.
The 2014 Infiniti Q50 will be available with a choice of a refined 328-horsepower 3.7-liter V6 or new Q50 Hybrid featuring Infiniti's Direct Response Hybrid System with Intelligent Dual Clutch Control. Both powertrains will be offered with rear-wheel drive or Intelligent All-Wheel Drive.
Two new world's first production performance technologies make their debuts in the Q50 – Infiniti Direct Adaptive Steering technology and Active Lane Control.
The new steering system allows advanced control of the Q50's tire angle and steering inputs, transmitting the driver's intentions to the wheels faster than a mechanical system. Four different steering settings are offered, allowing customization by driver preference or road conditions. The Active Lane Control uses a camera-based lane marker detection system to further enhance on-center driving capability.
No word on pricing just yet, but given that this is basically a rebadged G Sedan, we expect pricing to be in line with those previous models.