Goldgenie Launches 24ct Gold iPhone 6 Elite Collection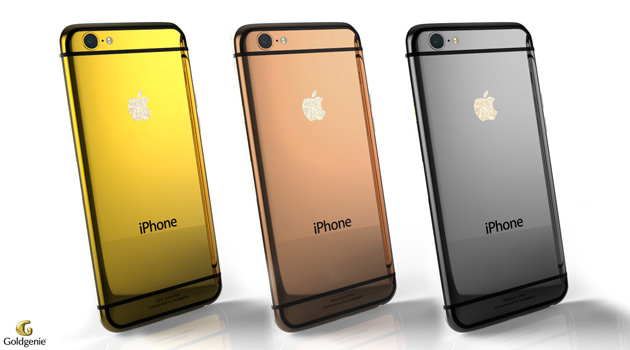 Apple released the highly anticipated iPhone 6 on Friday, and they sold a record 10 million phones over the weekend! So yeah, if you were hoping to stand out from the crowd with your shiny new phone, you're out of luck. But the folks at Goldgenie can make your iPhone 6 stand out from the crowd – For a price.
Goldgenie have announced the launch of their 24ct. Gold iPhone 6 Elite Collection. This year's most highly anticipated smartphone is now available to order from Goldgenie in their luxury customizations of 24ct. Gold, Rose Gold and Platinum. Their range also includes a Swarovski style crystal logo version and a limited edition Gulf Collection featuring laser engraved emblems of the 7 Gulf States; Kuwait, Oman, UAE, KSA, Iraq, Bahrain and Qatar.
Goldgenie are well known for their prestige range of customized modern technology and lifestyle products, including their signature 24ct. Gold iPhone Elite models. The company pioneered the art of Gold-plating an iPhone on the iPhone 3 in 2007 and they know from experience that when a new iPhone launches, demand for their luxury customized 24ct. Gold versions can outstrip supply. However, a limited number of iPhone 6 smartphones have been reserved for Goldgenie's pre-ordering clientele through their solid relationships with premium Apple resellers.

Goldgenie's customized iPhone 6 and iPhone 6+ are currently available to order in 16GB, 64GB or 128GB models through Goldgenie's website. The phones are presented in a beautiful cherry oak finish display case and include an unprecedented lifetime warranty on both customization and the devices themselves (limited conditions apply).
And for those who have already purchased an iPhone 6, Goldgenie offer a full customization service and may collect your phone by courier from any address in the world. Your phone will then be returned to you with your chosen finish and requested embellishments, such as personal engravings or embedded gemstones. Details of this service may be found at: http://www.goldgenie.com/gold-plate-your-iphone-6.php.
While spending upwards of $3000 for a blinged-out iPhone 6 might sound crazy to you and me, you know that it's only a matter of time before all of the Rich Kids of Instagram get their hands on these phones. 🙂