id America: Cushi Plus For iPhone 5 Case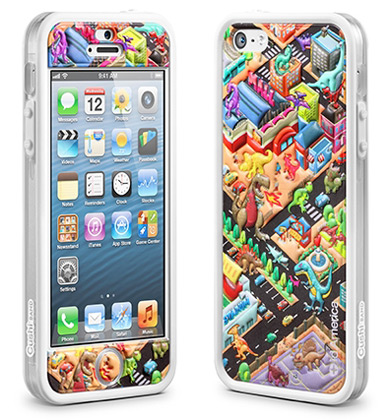 Long-time readers may remember some of the id America products we've reviwed in the past, including the original Cushi for the iPhone 4, the Cushi Stripe For the iPad 2, as well as the whole line of id America accessories for the iPhone 5.
Now they're back with the Cushi Plus, a complete protection kit for Apple's iPhone 5.
The Cushi Plus builds on the original Cushi by adding a Cushi Band (to protect the edge of the phone) and a Cushi padded skin for the front of the phone. A screen protective film is included as well. All of this does a good job of keeping your iPhone 5 well protected from all angles.
This image shows you what's included with the Cushi Plus.
In addition, there are a number of new Cushi designs to choose from. I went with the Cushi Plus Original (Suburb), which you can see pictured above. My old Cushi always got a lot of attention, and I'm sure that this new design will turn some heads as well.
Once you feel the 3D texture and squishy soft foam material and see how well it compliments your iPhone, you'll understand why we're so fanatical about the Cushi!
The Cushi Plus retails for $24.95, and can be purchased from idamericany.com.